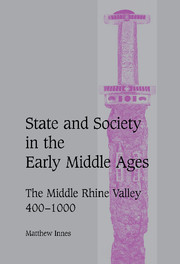 State and Society in the Early Middle Ages:
The Middle Rhine Valley, 400-1000
(Cambridge Studies in Medieval Life and Thought: Fourth Series)
Synopsis:
This book is a pioneering study of politics and society in the early Middle Ages. Whereas it is widely believed that the source materials for early medieval Europe are too sparse to allow sustained study of the workings of social and political relationships on the ground, this book focuses on a uniquely well-documented area to investigate the basis of power. Topics covered include the foundation of monasteries, their relationship with the laity, and their role as social centres; the significance of urbanism; the control of land, the development of property rights and the organization of states; community, kinship and lordship; justice and dispute settlement; the uses of the written word; violence and the feud; and the development of political structures from the Roman empire to the high Middle Ages.