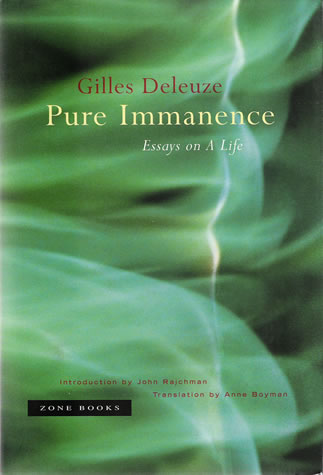 Pure Immanence: Essays on A Life
by Gilles Deleuze
Hardcover: 100 pages
Publisher: Zone Books (June 1, 2001)
From Publishers Weekly
Scholars and dabblers in philosophy will appreciate this brief posthumous collection of Gilles Deleuze's writings, Pure Immanence: Essays on a Life. Deleuze (Expressionism in Philosophy: Spinoza), a noted and controversial professor of philosophy at the University of Paris VIII, here variously writes on "a transcendental empiricism in contrast to everything that makes up the world of the subject and the object"; Dickens, Wagner and other artists; aesthetics, particularly cinema; and communication and information-machines. There are essays on Hume and Nietzsche, a discussion of the "plane of immanence," his final work before his death in 1995. Trans. by Anne Boyman; intro. by John Rajchman. ( May
Copyright 2001 Cahners Business Information, Inc.
From Library Journal
Deleuze (1925-95) worked through his career as a philosopher by exploring what he identified as a connection, rather than a disconnection, between phenomenology and analytical philosophy. Brought together in this small volume are three essays "Immanence: A Life," "Hume," and "Nietzsche" that illustrate his work well. Boyman's translation gives English readers the opportunity to understand how Deleuze demonstrated the validity of the connection both ably and engagingly. The first essay serves as a kind of coda against which any of Deleuze's other work can be read: here he limns the empirical differences between a life and this (one's) life. The following two essays are his reports on the relevance of how earlier philosophers conceptualized this kind of logic, allowing us to understand both their philosophies and our contemporary world. In "Hume," he concentrates on the idea of identity, while in "Nietzsche" he concerns himself and his reader with the move from identity to evaluation. Scholars and graduate students will welcome this volume, while some informed lay readers will find these tastes of the philosopher tantalizing. Francisca Goldsmith, Berkeley P.L., CA
Copyright 2001 Reed Business Information, Inc.
hard-cover